This post contains affiliate links. For more information, see our disclosures here.
Where I live, the days are long and hot.  2014 ushers in not only a new calendar year, but a brand-new school year too.  For the Southies amongst us, the shopping list most likely includes stationery, books and new curriculum.  For the Northerns amongst us, it can be a battle to push on through the darker, colder months, never mind thinking about starting a new school year!  But, no matter where in the world you live, I bet that you can rustle up a good excuse to inject some new life into your learning spaces and places if it means pouring over beautiful pictures and inspiring ideas!  And what better place to do so than right here at Hip Homeschool Moms?
Whole Rooms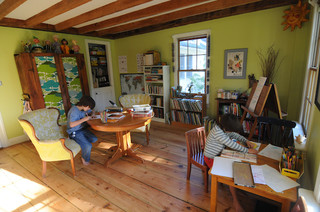 If you're anything like me, drooling over beautiful, expansive rooms worthy of the pages of glossy home decor magazines is a bit of an indulgence.  It's all, "ooh" and "aah" and then "back to reality" where dirty dishes, broken toys and mismatched furniture reside.  But, for some reason, those sessions inspire me, rather than depress me.  If you fit into "inspired" category, then head on over to
Houzz
for 669, 398 photos of school room perfection.  If it's bound to create great big doses of depression, then check out these spaces at the HHM's Pinterest page – beautiful
and
realistic rooms:
HHM Classrooms.
Spaces and Places
Of course, not every one has the space to create beautiful rooms dedicated to the purpose of learning and book work.  But, we all love great ideas for organising better spaces and places.  Hip Homeschool Mom's Pinterest page has loads of ideas with more being added all the time.  Like these ideas:
Don't have much space for all the stationery needs?  Then try this great idea from Tina, guest posting at A Bowlful of Lemons: shoe organiser to the rescue!
Transparent plastic containers are a boon for any organising need.  We use them for toys, math manipulatives, grammar and language cards, games and much more.  I love that we can see immediately what's inside and that they stack so neatly on top of one another.  Don't have a budget for transparent containers?  Then, try this: take a photo of the box's contents, print two copies and paste them on to the lid and facing side of the container.
Wall spaces can become chalk boards, magnetic boards, bulletin boards or more.  I love this idea from Martha Stewart that makes use of both bulletin and magnetic boards but keeps the continuity of one colour fabric: Bulletin Boards.
Bookshelves are a must in just about any homeschooling home.  The dilemma, however, is so many books, so little space!  Here are 25 great ideas for easy DIY bookshelves.  Wire spools, ladders, rope-and-shelves, pallets, even floating brackets – just about anything can be converted into awesome bookshelves.
Book labels are not an essential, but they are really helpful in keeping things organised.  Since discovering the beauty of white labels, our special Sonlight and Footprints curricula books are easily identifiable.  We use normal address labels at the base of the spine of all our school books.  Then, each book is assigned two or three smaller stickers, each a different colour signifying the curriculum, the program within the curriculum and the type of book within that curriculum.  For example, in the pinnable image above, all the books that belong to our Footprints curriculum have dark green dots.  The 5-8 year old curriculum has a lighter green dot while the 8-14 year old curriculum has a small blue dot.  All read-alone books have a silver dot, along with the curriculum colours.  No matter where these books find themselves in the house, we can easily identify where their home is simply by glancing at the spine.
We have many more ideas over at our Pinterest Page.  But, we also know that you've got some great ideas too!  We'd love to share your ideas with everyone at Hip Homeschool Moms, so please feel free to add YOUR school room ideas here.
Related Posts