This post contains affiliate links. For more information, see our disclosures here.
So do people really mean to lie, or are they just incredibly misinformed and they can't resist sharing their misinformation?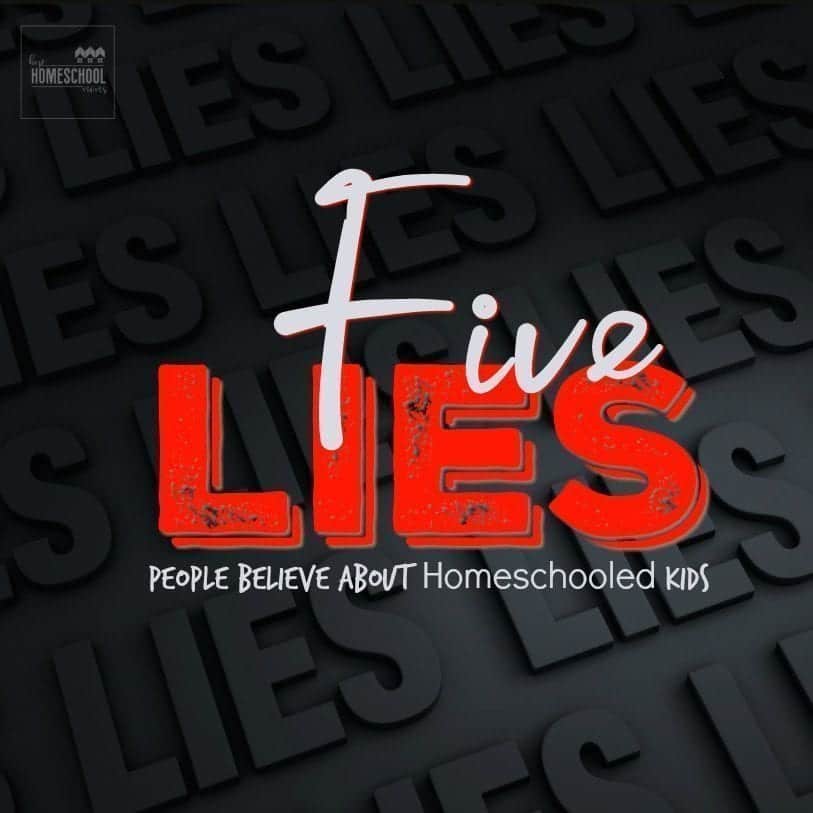 I'm not always sure the answer to that question, but I know there are certain assumptions made about homeschoolers, some of them woefully inaccurate, and so sometimes a little clarification of the facts is in order.  Though there are many others, here are 5 lies I find people often believe about homeschooled kids.  Tell me if you've ever heard any of these:
Homeschooled kids are socially awkward.
Let's get the most obvious lie out of the way first, shall we?
I always love this one because it implies that all traditionally schooled kids are very well-balanced socially.  Except that any human being who ever attended traditional school, (myself included,) can tell you that is NOT the case!  Traditional schools are chock full of socially awkward kids, and yet no one ever asks the question, "Oh, he attends traditional school?  So what are you doing to ensure proper socialization?"
Listen, if being able to discuss politics with a table of elderly men makes my child "socially awkward," then I'm all for it!  If my daughter is a "social misfit" because she would rather discuss books than pop stars, then so be it.  Good socialization is very much in the eye of the beholder and, believe me, what a lot of people consider healthy socialization is behavior that scares the living daylights out of many homeschooling moms!  And don't expect us to apologize for that.
Homeschooled kids are from wealthy families.
Can you hear me chuckling at this one?
A lot of homeschooling families, (though certainly not all,) do live on a single income.  For whatever reason, that leaves some people with the impression the family's single income must therefore be ENORMOUS!
Nothing could be further from the truth.  The idea that homeschoolers are privileged is really true only in the sense that they have moms and dads who are willing to make great sacrifice to educate them at home.  Often that means living without many of the luxuries and conveniences common to other families.
Homeschooled kids are religious zealots-in-training.
People choose to homeschool for a whole host of reasons, many of them having little to do with their religious beliefs.  But, absolutely, many religious people choose to homeschool so that they may impart their value system to their children.
But they're being indoctrinated!  They're being told what to think in that strongly religious home!
And that never happens in secular schools?  Sorry, but there's not an opinionated and passionate teacher in the world who doesn't impart, (whether intentionally or unintentionally, blatantly or subtly,) his or her belief system on students.  That should be of grave concern to every parent.  While some are so fearful homeschooling is producing religious nuts, they never stop to consider how much public schools may be indoctrinating and telling their kids what to think.
Homeschooled kids can't get into college.
This is completely, patently false.  For decades now homeschooled students have been finding their way into colleges and universities.  Now even many of those schools with a history of being very unfriendly toward homeschoolers are opening their doors to homeschooled students rather than risk losing some of the best and brightest to other schools.
Not only are homeschooled kids very capable of getting into college and flourishing there, but they are also finding more scholarships and financial aid opportunities at their disposal as well.
Homeschooled kids are geniuses.
Now this is one of the few lies we may sometimes wish was true.
But we have to be honest:  Homeschooled kids are really no different from anybody else.  Some of them are brilliant, gifted learners, but certainly not all.  And while we would love to tell you we are capable of turning even the most mediocre of students into little Albert Einsteins, we don't always accomplish with our students all the things we wish we could accomplish.
In fact, there are scores of homeschoolers who choose home education because of a struggling learner who just wasn't thriving in a traditional school setting.  For many kids, nothing can take the place of one-on-one instruction and an education plan individually tailored to meet their needs.  Not all of these children will achieve unbelievable academic success, but many of them will excel far beyond what they ever could have done in a traditional school designed for one-size-fits-all education.
What have I missed?  What are some of the lies and misconceptions you've heard about homeschoolers?  How do you refute them? 
Related Posts